SIR HENRY MORGAN'S - BIOGRAPHY
Born in 1635, died in1688

Many years of researching Sir Henry Morgan, his time period and his peers have amassed an incredible amount of information. From Morgan's family manor Tredegar House to his alleged birth place of Cardiff, from his plantation house in "Port Maria", Jamaica to the sunken pirate town "Port Royal" in Kingston, we have tried to retrace Morgan's steps with every bit of information we could lay our hands on, with more material yet to come. Below are some excerpts from our research, which we have assembled to reflect who "Sir Henry Morgan" really was.

1635
It is generally believed that Henry Morgan was born at Llanrumney, Wales in 1635, although to this very day we could not find any documentation proofing his exact birth date or place. During Morgan's time, Llanrumney was known as a manor in Monmouthshire, the "Land of Gwent" but today it would be situated between Cardiff and Newport, Wales.
1654
Some records indicate that young Henry Morgan joined Admiral William Penn & General Venables in 1654 as a volunteer at Plymouth. At this point Admiral Penn's ships, under order of Oliver Cromwell, were on the way to Barbados to press more troops for a campaign to attack the City of Santo Domingo, Hispaniola. But as history recorded General Venables' seven thousand men were defeated by the Spanish and they had to retreat to their ships and leave. Licking their wounds, the remaining force sailed to the island of Jamaica. Here they attacked some small Spanish settlements guarded only by a few hundred soldiers and conquered the island's only town Santiago de la Vega, thus Jamaica became an English colony.
1655

During the following years most of the English troops perished either through "yellow fever" or other mishaps. Oliver Cromwell
(left image)
found himself with a strategically important base in the middle of Spain's New World but had in truth no soldiers to defend it. In order to populate the island he offered 30 acres of land free to any immigrant willing to settle there. After the ascension of King Charles II in 1660 to the English throne, "letters of marque" were offered to privateers operating from the island. Since England had no means to protect the island with navy ships, the privateers or buccaneers were the only real naval protection Jamaica enjoyed at the time. Records indicate that Morgan must have participated in several raids on the Spanish Main during the years leading up to 1663.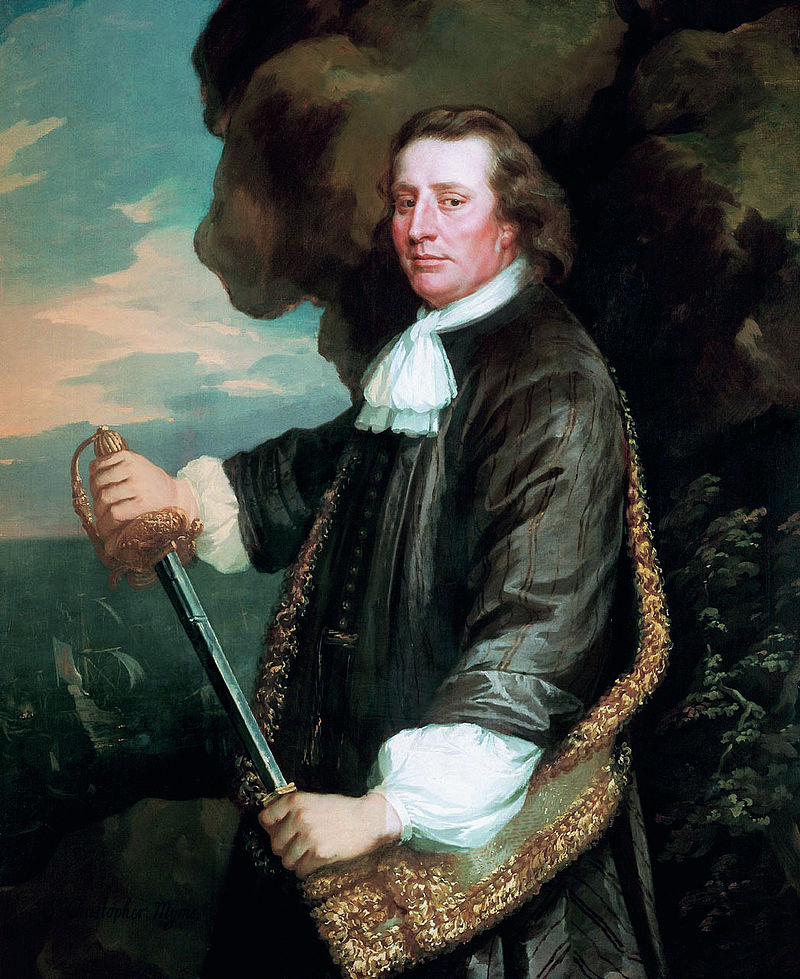 1663
Commodore Christopher Myngs took Henry Morgan under his wings, teaching him the "trade". Morgan sailed as part of the flotilla, which first attacked and plundered Santiago (Cuba) and in 1663 when he commanded a vessel in the attack on the Mexican coast. During this raid, 1100 men described as privateers men, buccaneers and volunteers sailed more than 1000 miles to attack Campeche. The town, defended by two forts and regular Spanish troops, fell after a day of fighting and the buccaneers took fourteen Spanish ships as prizes. During that campaign, lasting over 18 month, Henry Morgan advanced to an important leader of the buccaneers because of his previous experiences as a soldier and his demonstrated successes.
1665
Morgan and his men returned to Jamaica with great riches. By 1665 Morgan has been acknowledged as the leader of probably the largest buccaneering association in the
"New World"
. In the same year Morgan married his 1st cousin "
Mary Elizabeth"
and could have settled down. By now he was enormously rich and owned several plantations. Subsequently he has been asked to organize Jamaica's defenses as England and Holland were once again at war with each other. At that point in time most of Morgan's family had been relocated to Jamaica. Morgan's uncle Colonel Edward Morgan died soon after during an English attack on the Dutch Island of Statia. At the same time back in England a war ship called
"Oxford"
made herself a name in the famous sea battle of
"Lowestoft"
(left image).
1666

By now, Morgan commanded his own vessel and led an organized fleet of privateers against Puerto Principe and Puerto Bello. The sacking of Puerto Bello was particularly brutal and resulted in rape, torture, and murder on a grand scale. London was far away and claimed ignorance about Morgan's activities but the truth was that Captain Morgan and other buccaneers worked in close collaboration with Jamaica's governor and as such with the English Crown. King Charles II concerned about Jamaica's only naval protection quietly permitted the buccaneers to operate out of Port Royal for, of course, a share of the loot.
1668/1669
Late in 1669 Morgan sailed with ten ships to Isle A'Vache off the coast of Hispaniola (modern Haiti). Here, the
"Oxford"
a warship and Morgan's flagship sent out for the defense of Jamaica by the British government, found the French privateer ship Le Cerf Volant. Morgan confiscated that ship for his campaign in Maracaibo. During this particular gathering, which was usually accompanied by a drinking feast, the Oxford blew up in an gigantic explosion killing over 250 people while Morgan dined with some other Captains on the aft deck (January 1669). This event has been eye witnessed and recorded by "
Richard Browne"
, Morgan's on board physician. After this incident the
"Le Cerf Volant"
became Morgan's new flagship and he renamed her
"Satisfaction"
.
1669
In 1669 Morgan, now bearing the title of Admiral, ventured through the tight inlets of the Maracaibo lagoon with four hundred men and a few small ships. After eight unsuccessful weeks in the Lagoon of Maracaibo he sailed back for Maracaibo itself. There he was to meet at sea with Vice-Admiral "
Alonso del Campo y Espinosa"
, who commanded three powerful men-o-war. On May 1st 1669 the battle took place whereby Morgan's buccaneers sailed a fire ship, into the Vice-Admiral's 48-gun warship
"Magdalen"
. The Magdalen burnt and sank, the
"Santa Louisa"
fled and the buccaneers captured the "
Marquesa"
, the third Spanish ship. After this triumph Morgan attacked Maracaibo, which the Spaniards had hastily abandoned upon seeing his approach.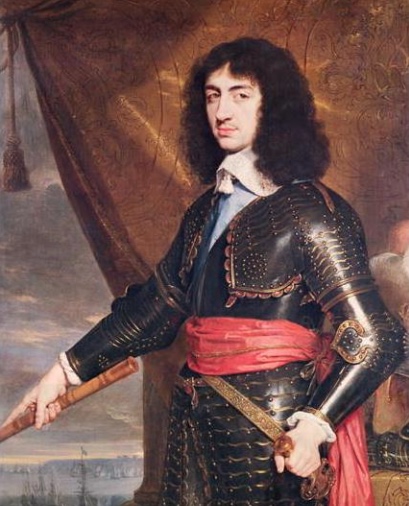 1670
Alexander O. Exquemelin describes in his book how Morgan assembled an expedition of 37 ships and over 2000 men at a safe anchorage off Hispaniola, near Isle A'Vache. At a meeting with his captains, mostly English and French, it was decided to attack Panama, the richest Spanish city of the West Indies. This large fleet left Cape Teburon on December 16th 1670 and within two months Morgan attacked, invaded, plundered and almost completely destroyed Panama and nearby villages. On February 24th 1671 he and his men left Panama with 175 mules and ox-carts filled with silver, gold and many other precious things. They also had with them over 600 slaves. By the time the message from taking Panama reached England politics had changed, England and Spain now being at peace. The sacking of Panama became an embarrassing diplomatic situation for King Charles II leaving him no other option as to order the arrest of Sir Thomas Modyford, the governor of Jamaica and Henry Morgan.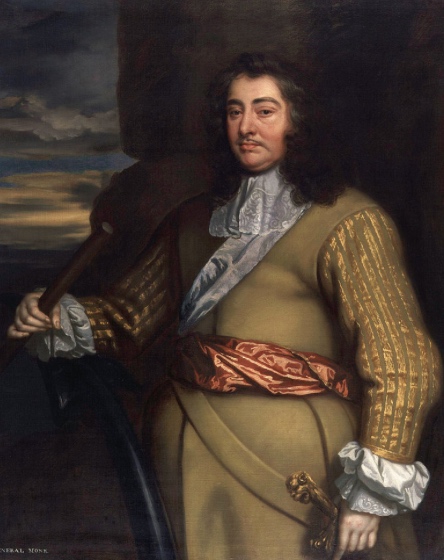 1672
On April 4th 1672 Henry Morgan was arrested and taken back to England on the frigate
"Welcome"
. But unlike his former governor
"Modyford"
he was never to see the insides of the Tower of London. Documents indicate that Morgan simply stayed under
"house arrest"
and was seen participating actively at London's social events. During his time in London, Morgan became acquainted with
"George Monck, Duke of Albermarle"
(left image)
, this friendship should last until Morgan's death. Meanwhile in Jamaica things got out of hand as the newly appointed governor
"Lynch"
was trying to fight off the Dutch, but since Morgan's arrest, his friends and followers on the island seemed little cooperative to help.
1673/1674

Worrying about his biggest West Indian Colony, "
King Charles II"
needed the help of Henry Morgan again. His ever so empty purse was in great need of income, which usually derived from the taxation of the very lucrative sugar trade. But with England's richest colony in uproar there was little hope of that so Morgan's star was on the rise again. Morgan's suggestions to the King must have made a good impression than shortly after he was allowed to return to Jamaica as deputy governor to
"Lord Vaughan"
who was to succeed the luckless governor Lynch. To add to Morgan's good luck just before Christmas
1675
he was knighted by Charles II, King of England, from this time on bearing the title
"Sir Henry Morgan"
.
1676
Newly knighted,
"Sir Henry Morgan"
traveled on the vessel
"Jamaica Merchant"
from London to Jamaica to become the new Lieutenant Governor. Documents state that
"Captain Knapmann"
had been in charge of the vessel during this journey. Sailing by his old hide-out Isle A'Vache, probably during a storm, the pilot of the
"Jamaica Merchant"
must have made a navigational error and the ship wrecked February 25th 1676 (1675?
)
on the east side of Isle A'Vache. It is also reported that five or six days later another Jamaican privateer arrived and rescued everyone. The governor of Jamaica also sent salvage sloops and recovered 20 large cannons
and 212 cannon balls.

1680
At the age of 45,
"Sir Henry Morgan"
had reached the peak of his career. By now he was vice-governor of Jamaica, vice-admiral, commandant of the Port Royal Regiment, judge of the Admiralty Court and Justice of the Peace. Yet he was known to drink rather heavily and has been seen ever so often in the company of his old comrades frequenting the rum shops of Port Royal. Nevertheless Morgan constantly improved Jamaica's fortifications and he survived various political attacks while expanding his various estates. A very close friend of Henry Morgan was
"George Monck, Duke of Albermarle"
, he was made Governor to Jamaica in 1682.
1688 -
Morgan's last Days

Certain documents state that a doctor named "
Hans Sloane"
made himself a name for becoming Henry Morgan's physician. Sloane tried to treat Morgan on his liver condition but Morgan's health did not respond to any treatment, the sickness had progressed too far. Knowing that his end was near Morgan signed his will in
"June of 1688"
and called for his close friends and relatives to see him one last time. On "
August 25th 1688"
Morgan died at his plantation in Port Maria. For many who are not familiar with his history Sir Henry Morgan appeared to be not much more than a bloodthirsty, drunken pirate but by closer examination he has been re-evaluated, by some historians, as one of Britain's most successful military strategists and as a man with vision, charisma and great leadership qualities. Morgan was well liked by his comrades and peers but also and not surprisingly by aristocrats and kings; he obviously contributed in one way or another to their wealth.

"Sir Henry Morgan"
certainly has left his mark in Welsh history but he also deserves to be mentioned as a man with a vision who shaped the face and the history of the New World. He helped building and fortifying "
Port Royal
" thus contributing to make it to one of the richest towns in the New World. Without his deeds most of the North America territory would be speaking Spanish today. Morgan had been buried on a cemetery in Port Royal, near the Palisados. Four years after his death on
June 7th 1692
a massive earthquake destroyed most of what he had helped building. It is said that his lead coffin is still resting somewhere down there, in the sunken parts and murky waters of the old pirate town - Port Royal.